Historically, dashboards were provided by the IT department to give company executives a snapshot of the business. Now they are useful tools for all levels of business users.
By Wende Cover, Director of Strategic Marketing, MicroStrategy
Organizations rely on business intelligence software to tap into their databases and uncover analytically based insights to improve decision making and business performance. Through effective reporting, analysis, and monitoring of organizational data, companies can find new revenue opportunities, improve operational efficiencies, reallocate resources, and reduce costs.
Dashboards are useful tools for monitoring the status of key performance indicators (KPIs) and business metrics. The recent introduction of dynamic dashboards has elevated the functionality and visualization capabilities of dashboards, enabling users to interact with their business data in compelling new ways. Let's explore some of the common misperceptions about dashboards and how this new caliber of dashboards can help users manage their business areas with greater insight, efficiency, and transparency.
Dashboards Are for Executives Only
Historically, dashboards were provided by the IT department to give company executives a daily, weekly, or monthly snapshot of the business. While dashboards are still an excellent tool for executives, they can now be deployed across the entire enterprise and provide useful tools for all levels of business users. In fact, business users can even build their own personal dashboards using intuitive, drag-and-drop design techniques and simplified dashboard templates directly from their Web browser, without requiring assistance from IT.
Dashboards Offer Limited Ways to View Data
Typical dashboards offer standard formatting and data presentation options such as graphs, grids, tables, and text fields. The latest dashboards offer a wide range of information exploration options, including integration with Adobe Flash technology, making them highly responsive to users. Business users can instantly flip through many different perspectives of corporate performance to quickly identify problems and diagnose root causes without ever leaving the dashboard. Today's dynamic dashboards also offer time-series animations that can convey more meaning from every set of data. Viewing time-series data as graphical "movies" gives business users deeper insight into business trends. Users can rewind and fast-forward through the time series and even pause the movie to drill down for more detail on areas of interest.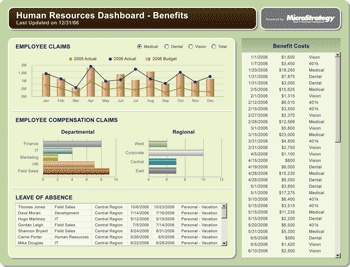 Figure 1. Dashboards are useful for monitoring KPIs and business metrics.
Dashboards Provide a Snapshot of Information
While dashboards serve as an excellent tool to monitor the health of an organization or specific business area, dashboards now offer the ability to drill into data, sort and segment data, and interact with data in exciting new ways to gain enhanced insight for decision making. One dashboard can replace as many as 15 different reports, allowing decision makers to see many sets of data in parallel, without changing context or focus.
Dashboards are Accessible Only when Connected to the Network
Have you heard about portable, self-contained dashboards? The Flash rendering found in dynamic dashboards allows business users to create self-contained dashboards that include full interactivity, visualization functionality, and data content. Users can interact with their dashboards on airplanes, present their dashboards in meetings, and analyze corporate performance at any location, regardless of network availability.
Dashboards are Only Useful at the Departmental Level
The new breed of dashboards provides complete transparency across the enterprise by aggregating information from many databases and presenting the data in an intuitive and visual manner on cross-discipline, information- rich dashboards. Dashboards can be used to align organizations through common goals and metrics. And, with automatic personalization and security, a single dashboard can be deployed throughout an enterprise, with each user seeing only their slice of the enterprise and the data that they are allowed to see.
Today, business users have the ability to create expressive dashboards with a highly responsive and easy-to-use interface that makes even the most advanced reporting a welcome experience. If you haven't explored the latest in dashboard technology, you will be amazed at the rich functionality available from dynamic enterprise dashboards.