Since its founding in 2000, StubHub experienced triple-digit year-over-year growth, straining its existing information management infrastructure.
Category: BI/DW on a Limited Budget
Solution Sponsor: Business Objects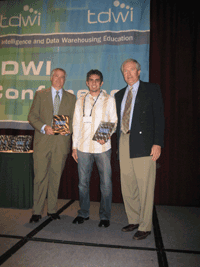 San Francisco–based StubHub is a unique open marketplace that enables customers to buy and sell tickets at fair market value to a vast selection of sporting, concert, theater, and other live entertainment events. Since its founding in 2000, StubHub experienced triple-digit year-over-year growth, straining its existing information management infrastructure.
StubHub's limited visibility into current data, customers, and business drivers threatened its long-term survival. But StubHub did not have the resources for an expensive overhaul. Instead, StubHub's BI/DW initiative emphasized investing in specific technologies to empower end users and free up existing staff resources, reusing existing technology investments, and employing open source technologies where possible.
Business Impact
StubHub created a scalable and extensible IT infrastructure to enable dynamic reporting, provide access to rich current and historical data, and reduce data latency. The solution provides actionable customer insights including definition of key customer segments, quantifies customer lifetime value, and creates customer behavioral profiles. It provides tools to maximize site conversion rates, marketing effectiveness, and customer loyalty. Finally, the solution identifies key business drivers and defines key company metrics.
Maturity
StubHub successfully replaced its failing database with a stable, scalable, and extensible data warehouse environment. The new database and reporting environment was developed and deployed in eight months (six months to code completion, with an additional two months of parallel testing). StubHub now maintains a rolling two-year road map to build on the platform and continue driving business value through actionable intelligence.
Relevance
StubHub leveraged industry best practices that can be easily adopted by similar organizations. For example, the initiative was designed by a cross-functional team to ensure full organizational buy-in. The company developed a detailed project plan that included a phased approach and clear milestones. The team used a traditional star-schema data model, a software development lifecycle (SDLC) methodology, and data quality techniques. Finally, the development team delivered "quick wins" with key reports to demonstrate and reinforce value to the organization.
Innovation
The StubHub team needed to find innovative ways to achieve an enterprise-class implementation on a limited budget. These included using open-source, on-demand, and free/bundled software; the extensive use of "sandboxes," which minimized BI headcount and enabled the BI team to focus on delivering value-added projects; repurposing hardware to further reduce capital expenditures; and collaborating with partner groups to create new reports and functionality.