Or try one of the following: 詹姆斯.com, adult swim, Afterdawn, Ajaxian, Andy Budd, Ask a Ninja, AtomEnabled.org, BBC News, BBC Arabic, BBC China, BBC Russia, Blogdigger, Brent Simmons, Channel Frederator, CNN, Crazy Apple Rumors, del.icio.us, Digg, Diggnation (Odeo), Diggnation (Video), Dominic Sagolla, Dooce, Flickr, Google News, Google Video, Harvard Law, Hebrew Language, InfoWorld, iTunes, Japanese Language, Korean Language, MacNN, mir.aculo.us, Movie Trailers, Nick Bradbury, OK/Cancel, OS News, Phil Ringnalda, Photocast, Photoshop Videocast, Romanian Language, Russian Language, Traditional Chinese Language, Technorati, Think Secret, Tim Bray, TUAW, TVgasm, UNEASYsilence, Web 2.0 Show, White Collar Ruckus, Windows Vista Blog, Yahoo! News, You Tube, Zeldman
A weblog on emerging technology and internet news, reviews, tips for a broad range of computing technologies.
Subscribe: Bloglines, Google Reader, My MSN, Netvibes, Newsburst
Newsgator, Odeo, Podnova, Rojo, My Yahoo!, Desktop Reader
New technologies like fingerprint identification and facial recognition tools take over. It makes many people think passwords will soon be obsolete. But we all know that sometimes our fingerprints fail to scan or our camera lenses are dirt. And then our accounts and devices fall back on passwords. Thus, passwords are here to stay, and it's more important than ever to use secure ones. And a password manager can help you do just that. Here are the five reasons you need to start using a password manager right now. 
What is a Password Manager? 
A password manager is a tool that stores all your passwords in one place. Consider it like a master key that helps you unlock all your online accounts. All you have to do is remember one strong password, and it will handle the rest for you.  
1) Password Managers Create Robust Passwords 
Did you know that a hacker can break into an account using one of the top 10,000 most common passwords within milliseconds? That's why many platforms now ask you to use upper and lower-case letters, numbers, and special characters. The hackers can still crack such passwords, but it takes a lot more time. Using a password manager is the easiest way to generate such unique and tough-to-crack passwords for your accounts. 
2) Password Managers are Convenient 
Most of the password managers store your old passwords and help you generate new ones. Some newer ones, though, take it up a notch. NordPass (https://nordpass.com/), for example, uses an online dashboard that connects to all your online accounts. Once you've logged into NordPass, you can then choose where you want to go online. No hassle of logging into each account. Can it get any more convenient? 
3) Passwords Managers are Multi-functional 
Password managers aren't only for your online accounts but operate across your total online experience. You can use them to autofill online forms and save private notes. For example, you can use them to make quick and secure purchases on Amazon or any other online retailer. No need to worry about finding your credit card to fill in the details.
What's more, you can also share passwords or import passwords to the manager from other sources. If you saved your passwords in the browser or another password manager, it takes only a couple of clicks. It may not be a function you'd use often but a useful feature even so. 
4) Password Managers are Safe 
Excellent password managers use the highest security protocols in the IT industry. Currently, those would be AES-256 and Argon 2 — the same standards that organizations like the NSA use. They provide you with an incredible combination of encryption and authentication tools. Even if a hacker somehow manages to break your secure password, all your data will be unreadable because of encryption. It is the perfect digital safety defense technique.  
5) Password Managers Ensure Privacy
When you use a password manager, all your passwords are private and for your eyes only. If the software developers are trustworthy, that is. After all, it's up to them to ensure the encryption of your passwords. That's why you shouldn't download the first password manager you see. Do a research first and choose a password manager with a proven record.  
Once again, the NordPass example comes to mind. Nord's reputation is built on its famous VPN. Aside from its amazing features and security, everyone knows about Nord's commitment to privacy. All their products operate on zero-knowledge protocols. What this means is that when any of your data reaches Nord's servers, it's already encrypted. The developer doesn't know what saved in your vault. Your passwords are as secure as it gets.  
Password Managers are the Security Tool You Need Now 
Every 39 seconds, hackers attempt to breach an online account. To put that in perspective, that's the same amount of time it takes to take a selfie and upload it to social media. Password managers aren't the only tool you can use to keep yourself safe online. But they are perhaps the most important as they are a vital first line of defense. Thus, if you don't have a password manager, it's high time you got one. Import all your passwords from your online accounts, browsers, and devices and store them in one place, ensuring comprehensive security and convenience in one package.  
The post 5 Reasons You Need to Start Using a Password Manager Right Now appeared first on Techolac - Computer Technology News.
Finding ways to make a home more appealing and functional is essential. Over 70 percent of American consumers have smart devices in their residence. These devices are designed to make life easier and increase security.
Regardless of what you need or what your budget is, finding the right smart home devices is easy. With all of the different smart home technology on the market, finding the right elements can be difficult. This is why you have to do your homework before making this important decision.
The following are some of the best smart home devices and technology on the market.
Wireless Security Systems are a Must
There are millions of home burglaries each year in the United States. Instead of waiting until your home is burglarized to think about getting a security system, now is the time to act. Instead of opting for traditional hardwired security, you need to think about investing in a wireless system. Not only are these systems easier to install, but they can also be paired with a number of other smart devices.
When pairing a wireless security system with smart devices, you will need to find the right code to enter. Luckily, there are a number of websites that can make finding an alarm system code easy and fast. Utilizing the technology available to you is a great way to secure your home and keep burglars at bay.
Control Your Home With Voice Commands With the Help of the Amazon Echo Plus
One of the most popular smart home devices on the market is the Amazon Echo. With the power of the Echo, you are able to control a number of things in your home. There are tons of skills that can be downloaded from the Amazon market to make the Echo more useful and customized.
Not only can you take advantage of the great speaker this smart speaker has to offer, but you can also use the dashboard to easily pair new devices to the Echo. While there are many other smart speakers on the market, it is hard to beat the price and functionality of the Amazon Echo.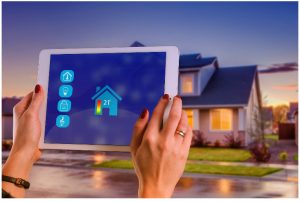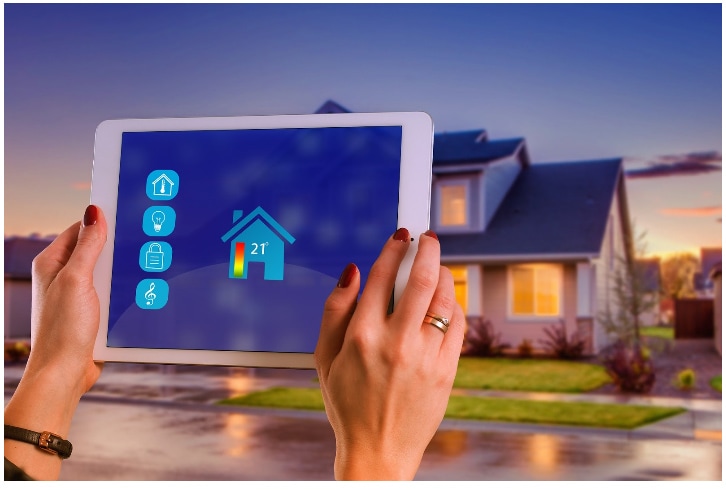 Source-Pixabay
The Samsung Smartthings Starter Kit is a Great Option
Are you looking for a kit to make your smart home transformation easier and more successful? If so, then the Samsung Smartthings Starter Kit is a great investment. This kit comes with a smart plug and three sensors. With these components, you can control smart bulbs with ease. The only thing you have to do to turn the lights on and off after installing it is to use your Amazon smart speaker.
If you are unsure about how to properly hook up and operate this starter kit, you can contact Samsung support. There is also a number of tutorial videos online that detail how to operate and customize this kit.
A Great Investment
While some smart home devices may be a bit expensive, they are well worth the money. Modernizing your home will allow you to increase comfort and can even add value to your residence.
The post Best Smart Home Technology in 2019 appeared first on Techolac - Computer Technology News.
Instagram Collection Ads can benefit your ecommerce store or any other business for that matter.  Since Instagram and ecommerce are photo-friendly, advertising your ecommerce store via collection ads makes perfect sense, especially considering that IG now has over 1 billion monthly active users just behind Facebook's over 2 billion users, who could potentially see your ads.
From gathering insights to creating ads and selling products, Instagram keeps rolling out tools to help businesses like yours succeed on the photo-video sharing platform. With your Instagram business profile as storefront, you can now go beyond just creating eye-catching Instagram photos and videos to connecting them to sales and ROI, while gaining wider publicity, reach, impressions and growing your Instagram followers. These are possible with Instagram Collection Ads.
In this article, I will be demonstrating how to setup/run your first Instagram Collection Ad and optimize it to better reach and serve your targeted audience, but first
What is Instagram Collection Ads?
This is an ads format that combines video and product images in a swipe-able Carousel display, designed to enable potential customers discover, browse and place orders in-app, without leaving Instagram.
Each collection ad features a primary video or image with four image slots underneath like a grid where you can display product photos and link them to your site, landing page, etc.
This is what an Instagram Collection Ad looks like;
Source: Instagram
Individuals, influencers, advertisers, brands, businesses; all use Instagram, your competitors too.
Here are
Some Interesting Instagram Statistics
An estimated 71% of US businesses use Instagram for business (Mention, 2018).
Instagram is the second most engaged social network (Emarketer, 2018).
71% of the billion monthly active users on the Instagram app are under the age of 35 (Statista, 2019).
50% of Instagram users follow at least one business (Mention, 2018).
83% of Instagrammers say they discover new products and services on Instagram (Facebook, 2019).
There are more than 25 million business profiles on Instagram.
Now, on to:
How to Set Up and Run Your First Instagram Collection Ad
Stage1: Link your Instagram Business profile to your Facebook Business Page if you haven't yet
Stage 2: Before You Begin
Select and organize images or videos you would like to use for your ad.
Image Ad Specs:
Image Size: 1,200 X 628 pixels
Image Ratio: 9:16, 16:9, 1:91:1
File Type: jpg, png, gif.
Cover Video or Image Ad Spec: 16:9, or 1:1
Stage 3: Create Your Instagram Collection Ad
Step 1: Click on Ad Center on your Facebook Business home page.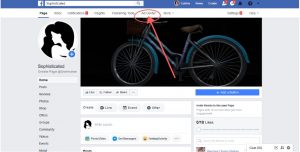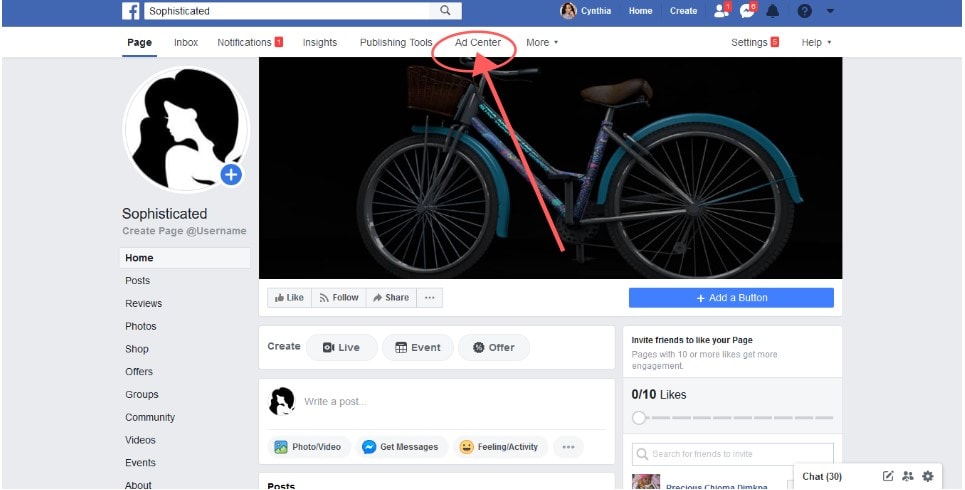 Step 2: Click on All Ads and click on Ads Manager.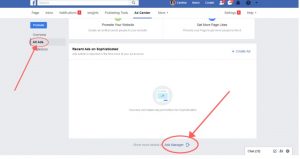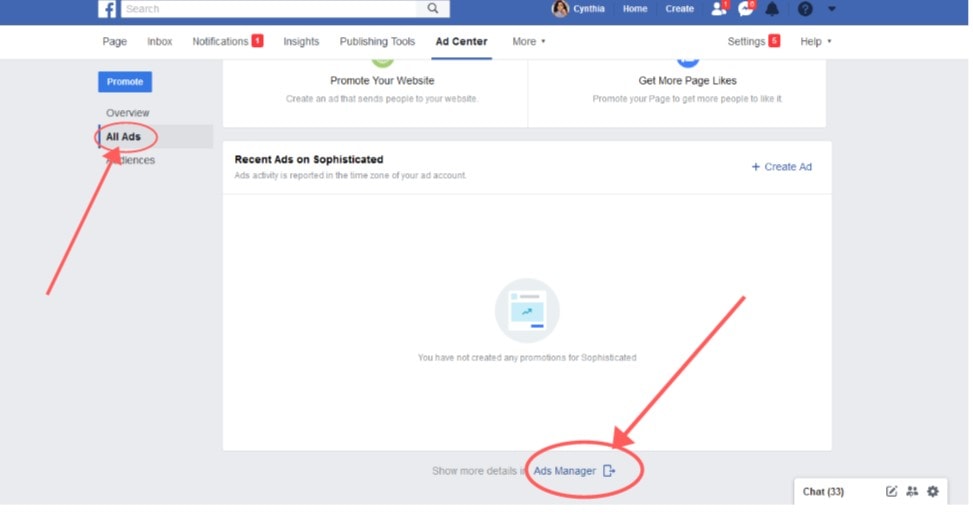 Step 3: Click Create.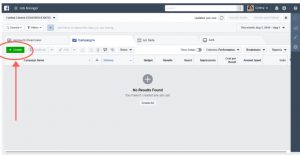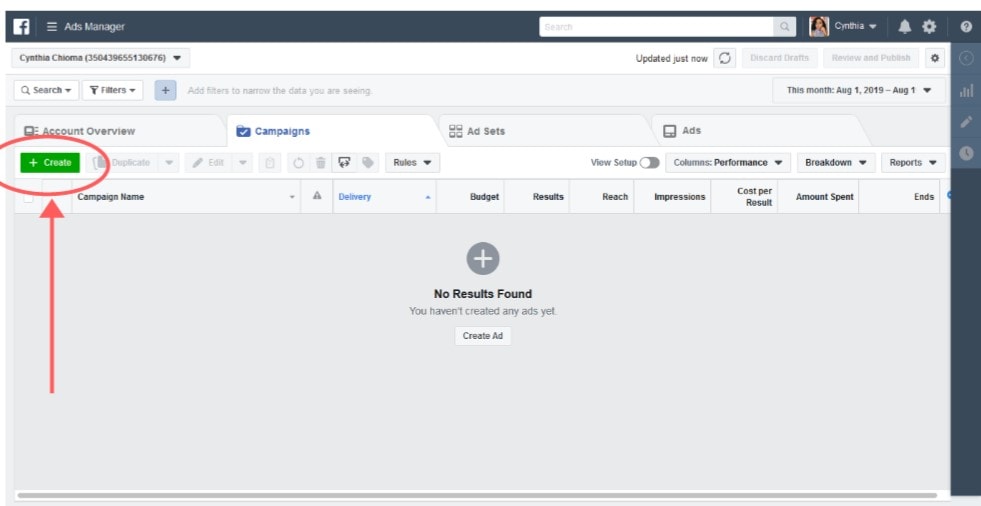 Step 4: Choose an objective that supports collection for Instagram feed (Traffic, Conversions, Store Traffic and Catalogue Sales) then click Continue.
Note: If you plan on using the Catalogue Sales objective, a catalogue is required.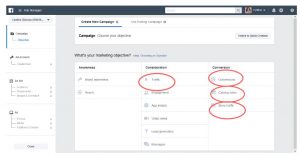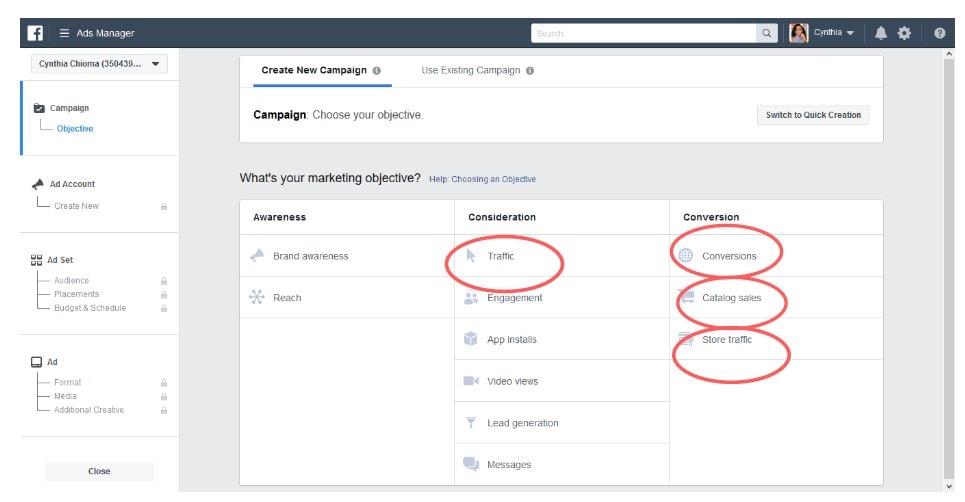 Step 5: Choose Website or App as the destination where you want to direct people to who interact with your ad. If you're using an app, it's recommended that you link people directly to your products within your app.
Note: Instagram supports deep linking at the product level (if this is reflected in the product catalogue), but deep linking with other elements (such as CTA buttons) aren't supported.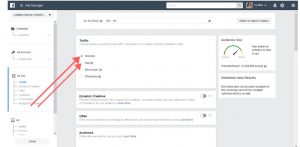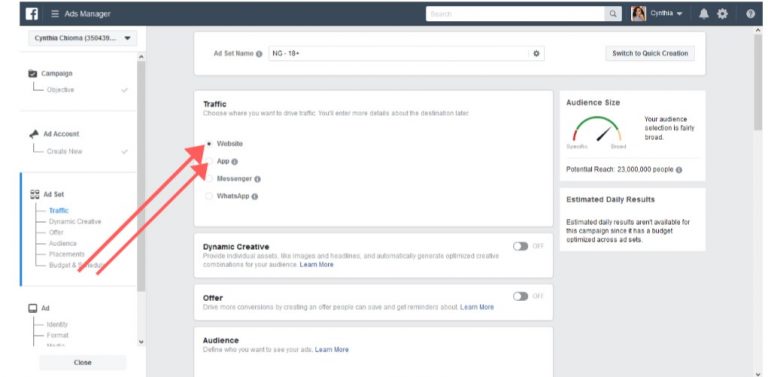 Step 6: Select the Audience for your campaign and save.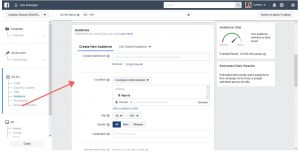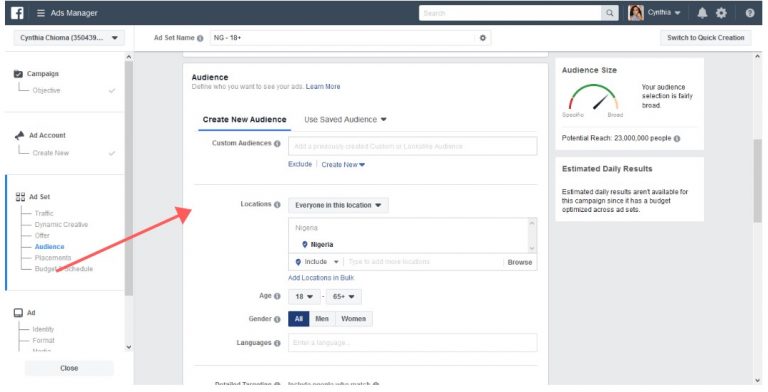 Step 7: Select Instagram as a placement for your ad by clicking Editing Placements, but it's recommended that you select Automatic Placements to optimize your campaign.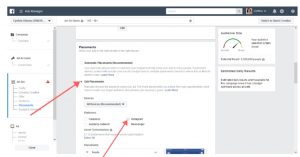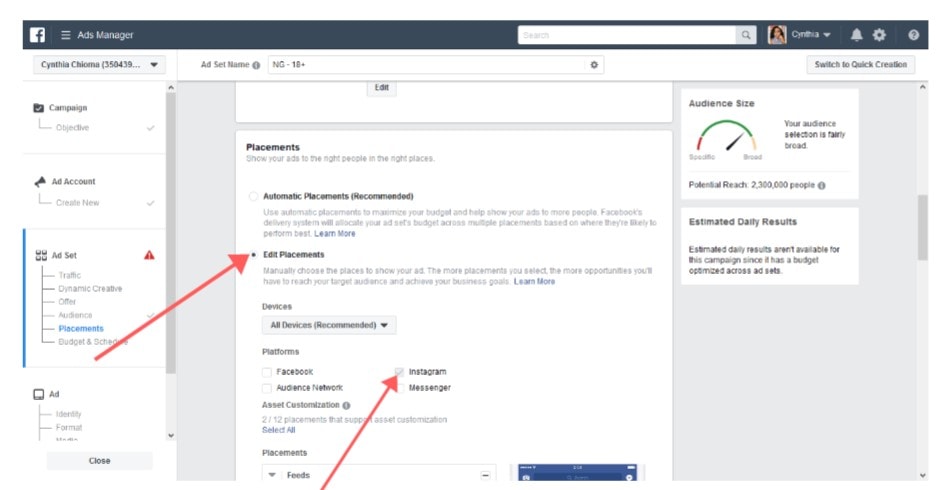 Step 8: Set the Budget and Schedule for your ad set, and click Continue.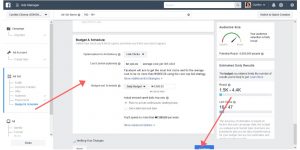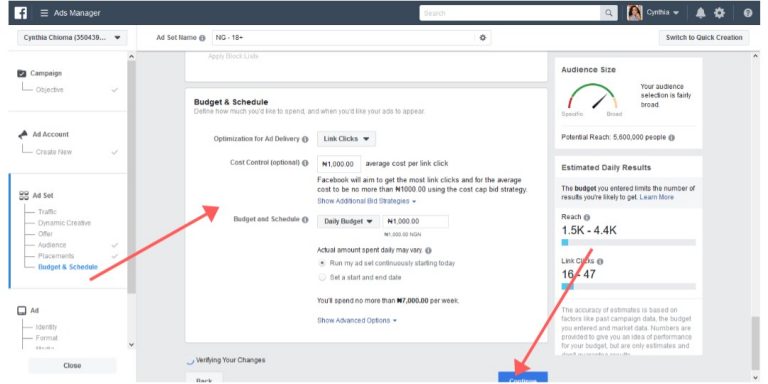 Step 9: Select Collection under Format.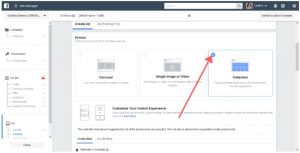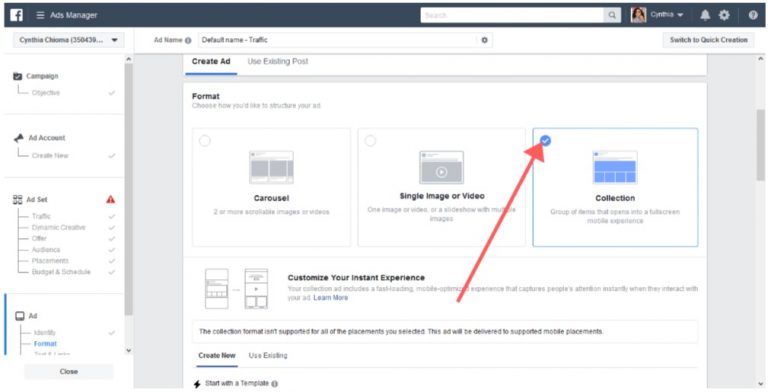 Step 10: Choose an Instant Experience template, or build a custom Instant Experience to include with your ad.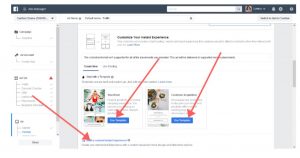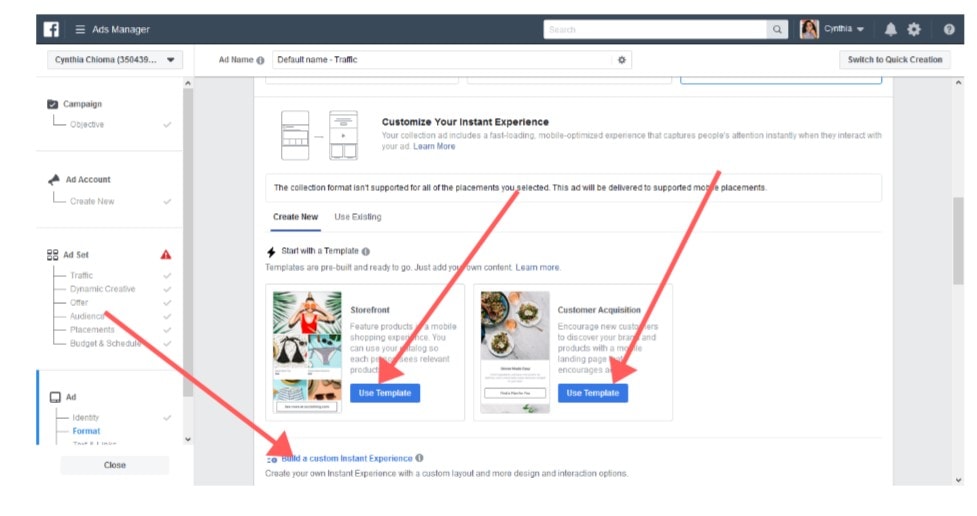 Step 11: Click on Header and type in a title for your ad.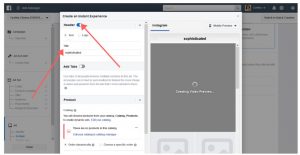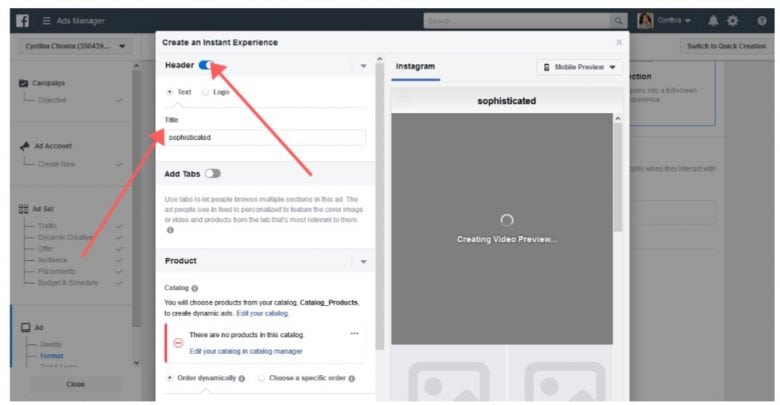 Step 12: Add products.
To add products from your catalog, click on Catalog, select order dynamically and choose products from your catalog or click on Product Set to select products.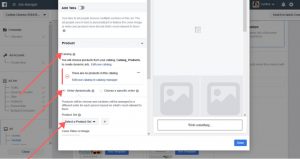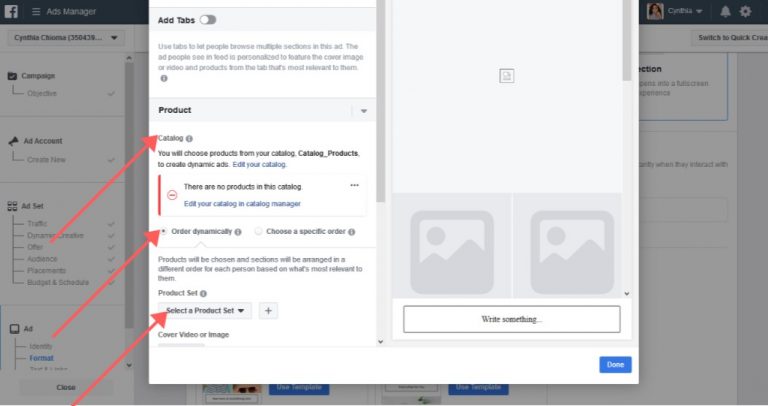 To add products manually; select choose a specific order, click on Catalog_Products, select Manually Add Products in the drop-down menu, tap on click to add products below Cover Video or Image and select Add a New Product to add your product pictures.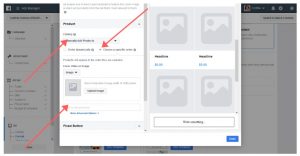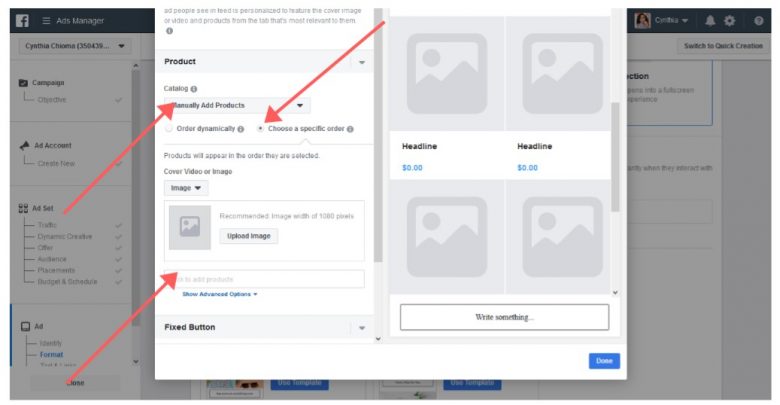 Step 13: Select a Cover Video or Image and click upload image.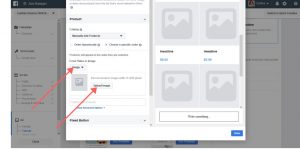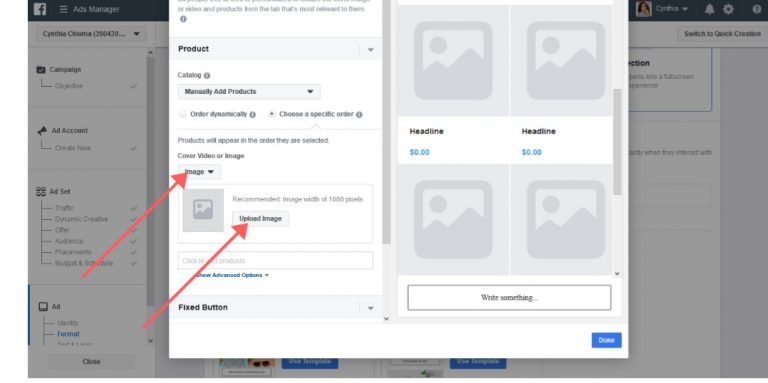 Step 14: Add a CTA.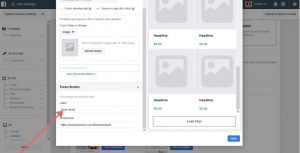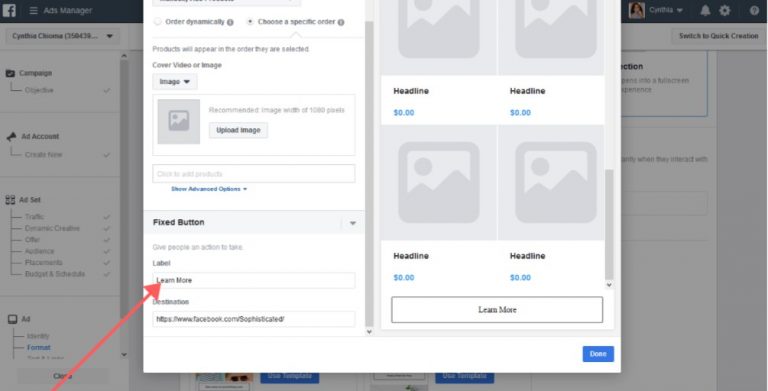 Step 15: Select done and then click confirm to submit your ad.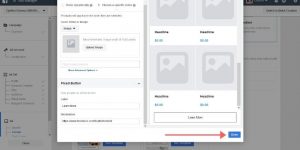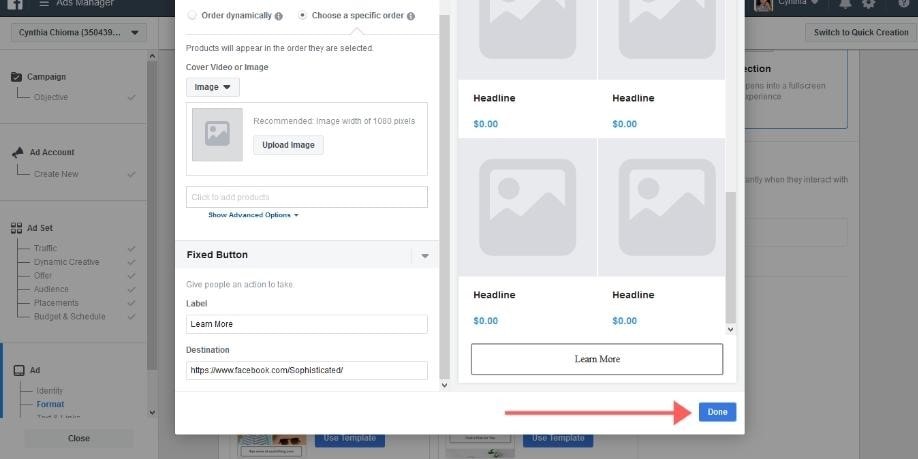 5 Key Things to Consider When Running Instagram Collection Ads
1. Set Focused Ad Goals and Objectives
Setting focused goals and objectives is key to successful Instagram Collection Ad. Set ad goals that align with and help you achieve your business goals, then use that at the end of your campaign to measure ROI.
2. Targeting the Right Audience
Without proper targeting you'd be taking aimless shots and wasting precious bullets. Know your customers to a tee; who they are, where they are, what they do, etc. This is important for Instagram Collection Ads success. It reduces spend and increases conversion plus ROI.
3. Ad Image Quality
Your product catalogue quality can mean the difference between a memorable campaign and a totally forgettable one. Choose recognisable, high quality product images for your ad. It's survival of the finest.
4. Select the Best Cover Visual
Cover videos typically generate up to 20% better interaction rates on collection ads than cover images. If your business doesn't have any video assets, you can turn multiple images into an auto-playing slideshow, which performs just as well. It's also a good idea to use images and videos showing people using your products, as these have been found to result in 3-5% higher click-through rates over time.
5. Driving Traffic with External Links
Add a compelling CTA and external link to your campaign that people can click on to access your product page, sales page, website, etc, to drive qualified traffic to your ecommerce store.
Conclusion
Instagram Collection Ad provides your business the opportunity to advertise, promote and showcase your products and services to over 1 billion potential buyers in-app and in a seamless way that masterfully blends social and commerce.
How has Instagram Collection Ads benefited your business or ecommerce store?
Author Bio
Amos Onwukwe is an AWAI trained Business and Ecommerce Copywriter featured in Huffington Post, Dumb Little Man, Self-Growth, Ecommerce Nation, eCommerce Insights, Understanding Ecommerce, Result First, Floship, WeCan, Grow Map, Small Biz Club among others.
Twitter: @amos_onwukwe
The post Instagram Collection Ads for Your Ecommerce Store: How to Do it Yourself appeared first on Techolac - Computer Technology News.
Netflix is by far the most popular streaming service in the world. It's huge library of original shows and movies can keep any viewer glued for hours. With trends like binge watching on the rise among the younger generation, services like Netflix have been doing roaring business in the last few years. Unfortunately, due to a number of reasons Netflix chooses to restrict content access in some parts of the world.  
Netflix availability
Originally, Netflix is available in 190 countries. However, the way it is available differs. Countries like China don't allow the service and US regulations restrict it from being streamed in North Korea, Iran or Syria. Besides a few other regions, Netflix services are accessible everywhere. Users can run into restrictions if they were travelling to any of these countries.  
Why is Netflix blocked in my country?
There can be a number of reasons why Netflix is completely or partially banned in a country. Partial bans include restrictions on content like in Saudi Arabia and other nations. One of the most common reasons for Netflix to be banned in your country is because of licensing restrictions. Either Netflix doesn't think it is feasible or the country in question won't allow the brand to acquire a streaming license, like China, for instance.   
Lack of demand is another reason why Netflix doesn't allow its shows or services to be available in a country. Depending on predicted sales, Netflix limits either some of its library titles or the streaming platform completely. Mostly these restrictions are just on content and that particular show is not made accessible in certain countries.  
Content limitations
Netflix USA remains the biggest library for the streaming service. The shows which are available there are not even shown in other leading markets like UK, Canada or Australia. If you are experiencing a Netflix ban, it may be just that the show you are trying to access is not open for viewing in your country. As unjust as it sounds, Netflix has the right to do this with users.  
There are a number of leading shows that are available exclusively to the US audience. No other country has the ability to watch them. This includes the Rocky movie series featuring Sylvester Stallone, shows like Dante's Peak, Parks and Recreation, House, Mad Men, The Hunger Games, Family Guy, House of Cards and numerous other titles.  
How to access Netflix from anywhere in the world
Netflix bans these titles both on the grounds of low demand or lack of licensing rights. For the average user this is a bummer. Fortunately, there is a way to access Netflix USA or unblock it in countries where streaming is not allowed. All you need a credible VPN service. A Virtual Private Network or VPN works by masking your IP address to hide your original location behind its own secure server.  
All that users have to do is download a VPN for the device they want to stream Netflix on. Leading VPN services allow users to select the purpose for which they are using the program. It then provides coverage in accordance with the need. Once you've selected Netflix or streaming from the purpose list, all you have to do is choose to connect to a USA VPN server.  
Conclusion 
VPNs open up the world to users who install the application. It can easily get you past Netflix restrictions so that you can enjoy your favorite content without any boundaries. Not only will this but a VPN also protect your digital traffic from being logged and from any hackers who might be trying to steal it.  
The post Is Your Netflix Blocked? Here Is How You Can Access Netflix appeared first on Techolac - Computer Technology News.
Social media is to your business what fodder is to horses; making it even easier you or your brand, in particular, can't thrive if you don't believe in this social media thingy. And in case you think believing it is something as it magical or spiritual effort, not at all as it's a social media strategy that's going to work your way. A poorly built social media strategy can knock you down or backfire, whereas one fine woven strategy can make you appear as an ultimate winner.
With even so much said, the question still remains rigid what makes this social media marketing so crucial for brands and business. Simple, it can give your brand the much-needed boost you've always been looking out for. For sure it can single-handedly get you out of the lurches. Therefore, we vouch for a workable social media strategy for every business.
Let people know about your Brand
The traditional market always had certain hindrances, which always limit you to your area or city. But that's not the case with social media marketing. With even resting in your houses your perfect social media strategy can make your outreach anywhere across the globe. In case anywhere is a word that seems like a bit of exaggeration, the fine-tune of your targeted audience is in your hands. And once you do that, an overview of how your brand works can grab the limelight of hundreds of thousand people.
Light on Pocket
You don't need to hire the placement of the billboards on the most hustling-bustling streets of the town. It's all approachable from your gadget and that too in a pocket-friendly manner. Even your Ads aren't as much as pricey as billboards, which require a hell of human resource too and are vulnerable to the weather conditions around. It will be pertinent to mention here that ROI isn't something to worry about when you're having one impeccable social media strategy on the go.
Interaction with Customer
The certain brands or most probably those we refer as international brands remain inaccessible to the local buds trying to reach in the physical market. Then comes social media on the display as contacting the bigwig brands is just a click away from the customer. This actually brushes off the distances and differences and makes a strong bond between a business and its consumers. If you have one reliable marketing strategy this interaction can make your way to the conversion, just in the blink of an eye.
Customer Satisfaction & Brand Loyalty
Customer satisfaction is one integral part for all the successful brands out there. And with social media, it has changed 360°. With showing courtesy for moments as customers interact on social media with believing that they'll get quick solutions; you can stand out as a winner. This can help these customers transform into the loyal customer category and that's what every brand/business strives for. The 24/7 availability and being responsiveness can be one game-changing part of your social media strategy.
Traffic & Conversion Boost
Your perfect social media strategy means more of the website on your website, store or blog. And in case you own an e-commerce store, it can get you heaps of traffic or the attention you've always been looking out for. Moreover, if it's done perfectly it can skyrocket your sales within no time. It can give you immediate ROI too if you pitch your selling point in the right way and that too in front of the right audience.
The post How Crucial is Social Media Strategy for Your Brand? appeared first on Techolac - Computer Technology News.
One of the most fundamental issues to consider when designing a PCB (printed circuit board) is how many wiring layers, ground planes, and power planes are required to implement the functions required by the circuit, while the wiring layers, ground planes, and power supplies of the printed circuit board The determination of the number of layers in the plane is related to circuit function, signal integrity, EMI, EMC,PCB manufacturing cost and the like. For most designs, there are many conflicting requirements for PCB performance requirements, target cost, manufacturing technology, and system complexity. PCB stack design is usually determined by considering various factors. High-speed digital circuits and beard circuits are usually designed in a multi-layer board. 
The following are the eight principles to be aware of in a cascading design:
1. Split layer
In a multilayer PCB, a signal layer (S), a power (P) plane, and a ground (GND) plane are usually included. The power plane and ground plane are typically undivided solid planes that provide a good low impedance current return path for the current of adjacent signal traces. The signal layer is mostly located between these power or ground reference plane layers, forming a symmetrical stripline or an asymmetric stripline. The top and bottom layers of a multilayer PCB are typically used to place components and a small number of traces. These signal traces are not required to be too long to reduce direct radiation from the traces. 
2. Determine the single power reference plane (power plane)
The use of decoupling capacitors is an important measure to address power integrity. Decoupling capacitors can only be placed on the top and bottom layers of the PCB. The traces, pads, and vias of the decoupling capacitors will seriously affect the effect of the decoupling capacitors. This requires that the traces connecting the decoupling capacitors should be designed to be as short and wide as possible, and the wires connected to the vias should also be Keep it as short as possible. For example, in a high-speed digital circuit, the decoupling capacitor can be placed on the top layer of the PCB, the second layer is assigned to the high-speed digital circuit (such as the processor) as the power layer, and the third layer is used as the signal layer, and the fourth layer is used. Set to high speed digital circuit ground. 
In addition, try to ensure that the signal traces driven by the same high-speed digital device use the same power plane as the reference plane, and this power plane is the power supply layer of the high-speed digital device. 
3. Determine the multi-power reference plane
The multi-supply reference plane will be split into several physical regions with different voltages. If the signal layer is close to the multi-power plane, the signal current on the signal layer in the vicinity will encounter an undesired return path, causing a gap in the return path. For high-speed digital signals, this unreasonable return path design can cause serious problems, so high-speed digital signal routing should be kept away from multiple power reference planes. 
4. Determine multiple ground reference planes (ground planes)
Multiple ground reference planes (ground planes) provide a good low impedance current return path that reduces common mode EM1. The ground plane and power plane should be tightly coupled and the signal plane should be tightly coupled to the adjacent reference plane. This can be achieved by reducing the thickness of the medium between the layers. 
5. Reasonable design of wiring combination
The two layers spanned by one signal path are called a "wiring combination." The best combination of wiring design is to avoid return current flowing from one reference plane to another, but from one point (face) of one reference plane to another (face). In order to complete complex wiring, the interlayer conversion of the traces is inevitable. When switching between signal layers, ensure that the return current can smoothly flow from one reference plane to another. In a design, it is reasonable to use adjacent layers as a wiring combination. If a signal path needs to span multiple layers, it is usually not a reasonable design to use it as a wiring combination because a multi-layered path is not smooth for return current. Although it is possible to reduce the ground bounce by placing a decoupling capacitor near the via hole or reducing the thickness of the medium between the reference planes, it is not a good design. 
6. Set the wiring direction
On the same signal layer, it should be ensured that the direction of most of the wiring is uniform and should be orthogonal to the wiring direction of adjacent signal layers. For example, the routing direction of one signal layer can be set to the "Y-axis" direction, and the direction of the wiring of another adjacent signal layer can be set to the "X-axis" direction. 
7. Use even layer structure
From the designed PCB stack, it can be found that the classic laminate design is almost all even layers, rather than odd layers, which is caused by a variety of factors, as shown below. 
It can be understood from the manufacturing process of the printed circuit board that all the conductive layers in the circuit board are saved on the core l

ayer, and

the material of the core layer is generally a double-sided cladding board, and the conductive layer of the printed circuit board is used when the core layer is fully utilized. The number is even.



Even-layer printed circuit boards have a cost adv

antage. Because of the small amount of dielectric and copper, the cost of odd-numbered printed circuit board raw materials is slightly lower than the cost of even-numbered printed circuit boards. However, because the odd-numbered printed circuit boards nee

d to add a non-standard laminated core bonding process based on the core layer structure process, the processing cost of the odd-numbered printed circuit boards is significantly higher than that of the even-numbered printed circuit boards. Compared with th

e ordinary core structure, the addition of copper outside the core structure will result in a decrease in production efficiency and an extended production cycle. Prior to lamination bonding, the outer core layer requires additional processing, which increa

ses the risk of scratches and false etching of the outer layer. The increased outer processing will significantly increase manufacturing costs.



When the printed circuit board is bonded to the multilayer circuit, the inner and outer layers are cooled, and

different lamination tensions cause different degrees of bending on the printed circuit board. Moreover, as the thickness of the board increases, the risk of bending a composite printed circuit board having two different structures is greater. Odd-numbered

circuit boards are easy to bend, and even-numbered printed circuit boards can avoid board bending.

 
At the time of design, if a stack of odd layers appears, the following method can be used to increase the number of layers. 
If the power layer of the prin

ted circuit board is designed to be even and the signal layer is odd, a method of adding a signal layer can be employed. The increased signal layer does not lead to an increase in cost, but can shorten the processing time and improve the quality of the pri

nted circuit board.



If the power layer of the printed circuit board is designed to be odd and the signal layer is even, then the method of adding a power layer can be used. Another simple method is to add a ground plane in the middle of the stack

without

changing other settings, that is, first print the board layout in odd layers and then copy a ground plane in the middle.



In microwave circuits and mixed media (medium with different dielectric constants) circuits, a blank signal layer can be added near th

e center of the printed circuit board stack, which minimizes stacking imbalance.

 
8. Cost considerations
In terms of manufacturing cost, in the case of having the same PCB area, the cost of the multilayer circuit board is certainly higher than that of the single-layer and double-layer circuit boards, and the more the number of layers, the higher the cost. However, when considering factors such as circuit function and board miniaturization, and ensuring signal integrity, EMl, EMC and other performance indicators, multi-layer boards should be used. Overall, the cost difference between a multilayer board and a single-layer board is not much higher than expected. 
The post 8 Principles of PCB Laminate Designing appeared first on Techolac - Computer Technology News.
If you have had the privilege of working on the internet independently, you must have hard about e-commerce and the impact it has on the current economy.
Some individuals rely on it as a sole source of income while for others it is a simple project to make a little bit of extra on the side. The money you bring in depends entirely on the time spent working.
While the dream of starting a similar venture is in the heads of a few, there are still some doubts which prevent these people from taking the step.
Instead of hesitation, you should find it in yourself to overcome any obstacles and start as soon as possible. There are a lot of reasons why e-commerce is one of the hottest topics at the moment.
Variety
You can decide on pretty much any niche that you have an interest in. If there is an audience for it, making money should not be a problem.
And you can boost the chances by making use of your other talents, such as graphic design. For instance, there is a high demand for print on demand products with Printify. It became popular because you have a variety of options like t-shirts, mugs, bags, and more without having to carry an inventory.
Some goods and services might not work out, but that does not mean giving up. You can always make a switch and start with anything else entirely. After all, sticking to the same thing over and over becomes dull after a while.
Introduction of New Platforms, Features, Software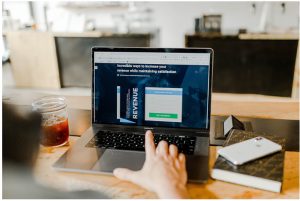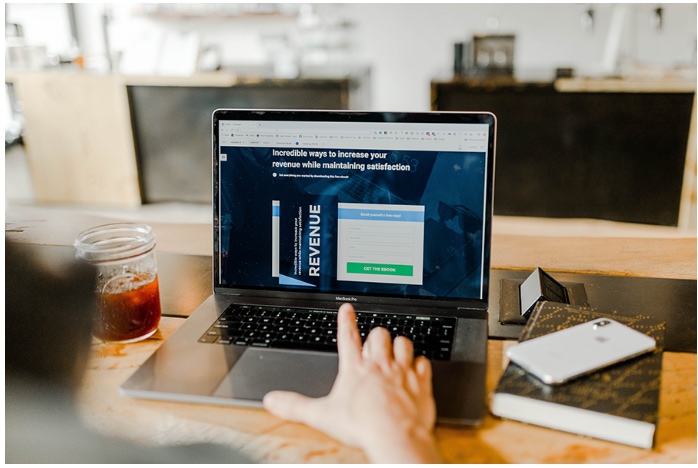 Image source: Unsplash.com
The industry is not stagnant when it comes to new and improved tools. Even though some platforms for dropshipping and other businesses have established themselves, some newcomers are also making a name for themselves and are keeping the big guys at their toes.
A good example of this could be SendOwl – a platform, developed with keeping in mind those who deal with digital goods. There is a very detailed SendOwl review on ProfitIndustry's website, so be sure to read it in case you happen to be in the same industry.
The Growth in the Future
Jumping into something with no potential in the future sounds like a bad idea, right? Well, you can rest assured when it comes to e-commerce.
While global domination still sounds like a bit of an exaggeration, some experts claim that this phenomenon is only a matter of time.
The peaks in the last couple of years were nearing 2 trillion dollars, and we can expect to see this number doubled by the end of 2021 and the start of 2022.
Any business model on the internet is a bit of a risk, but nobody can deny the growth of e-commerce in the last decade. People are making more money than ever, and this trend is bound to continue in the future.
Earn in Your Sleep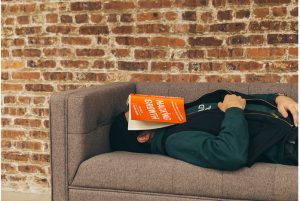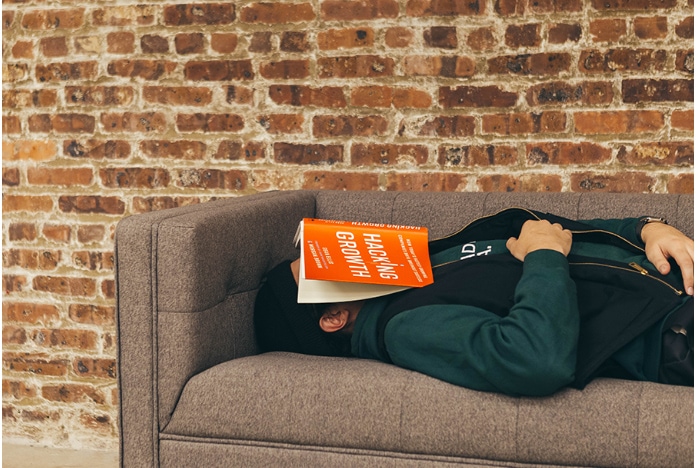 Image source: Unsplash.com
If you play your cards right, you can expect to make most of the money when you are not even on your computer, or while still in bed.
E-commerce does not require building a store and standing in front of a register. No, if you optimize your website, invest enough into social media campaign and grow your brands, you can sell your products worldwide without any storefronts.
Of course, sleeping on your laurels should not be what you are looking for. There will be those who are competing against you, and they might look to advertise their stores by going outside. Keep this in mind.
Easy to Start
Even if you have not had any prior experience with running an e-commerce store or even a regular website, everything is less complicated than it seems. First of all, there are plenty of guides on the internet which take you through a step-by-step process. Any issue that may arise along the way can be solved with a quick search on Google.
The bigger challenge will be finding the product, but even then, you can find plenty of extensions or plugins which can open doors to various markets. And once you gain some experience,  you will realize that even this part was not that difficult.
People Will Continue to Buy Online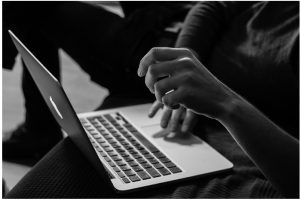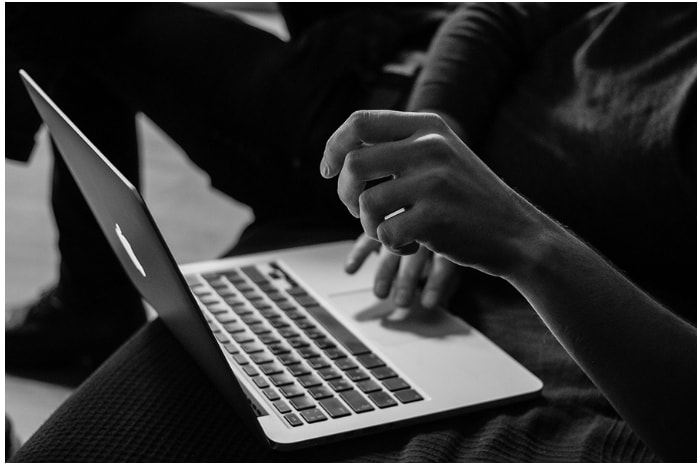 Image source: Unsplash.com
According to research by guys at Selz, at least 80 percent of the web population has made a purchase online. This number will continue to grow, not necessarily in percentage, but because more and more individuals are gaining access to join the internet community.
Also, keep in mind that you can do most of your shopping with smartphones and tablets, tapping the screen a few times. Such comfort is bound to incentivize even seniors who are becoming more familiar with the technology. And what about the next generation who is about to grow up?
To sum everything up, there are plenty of reasons why starting an e-commerce project is worth the time and effort. Plenty of entrepreneurs have already established their empire. And if an average joe can do it, so can you.
The post Why Starting an E-Commerce Business Right Now Is Perfect? appeared first on Techolac - Computer Technology News.
Unbelievable amount of photos are produced each and every day. Why? because we all love to capture the precious moments that we experience in our lives and share them with our friends, family and everyone that matters. Selfies, group photos, landscape , portraits and all sorts of pictures tell the stories of our life but at times photos need to be edited in order to reach their full expected potential regardless of how the stunning they look reproduce them with our smartphone but photo editing apps. 
Hattori the one that enable us to add text to photos that ensure that our photos are a success on social media and other sharing platforms If you have an Android Smartphone and you are trying to find out which app might be the best one to add text to photos because text is the one which describes your photo in fullest capacity. It is said that a picture is worth a thousand words but the words (text) compliments the picture to prove its essence & composition. 
So in this article, we will tell you the top 7 best apps to add text to photos on your smartphones. 
WaterMarkly

:

This is a very easy and quick editor which allows you to add text into your photos. It works online as well as offline. Multiple text can be added in a photo using this app.

It

is a very capable app for

placing

watermark

in photos.

 
Visual Watermark:

There are 926 fonts and 7 different effects in this photo editor application. Using this app you can add logo of your company as well. It is an online app used to

add text to photo

. For adding

mutilple

text to multiple photos you need to use its desktop app. It will work on your computer very quickly. 

 

Wondershare

Fotophire

Editing Toolkit:

Wondershare

Fotophire

tool kit app enables you to apply more than 200 effects to your photos to make them even better, crop cut pictures with nice finishing to meet any of your need. It helps you to remove any unwanted objects from your photos, It also allows you to use the creative blur to refocus your photos in a click. Worth mentioning is the text tool which allows adding text in

cursive and shining font to the picture you choose.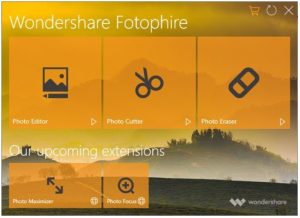 PicLab

:

Smartphone photographers are often in need of a powerful photo editing app that also enables them to add text to the photos. It will be a lot of fun using the

Piclab

app because it allows you to choose from a large collection of fonts but its uses also include resize or rotate the text without the need to invest too much effect and time. In addition to a superb collection font, this app offers remarkable effects as well as photo filters that will help you create photos as per your own choice. In case you want to use your own handwriting this app has a drawing tool that will come in handy.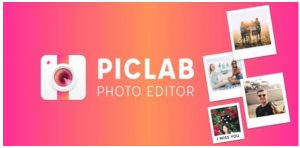 Textgram

:

Textgram

is the next app on our list. Snapping photos with an Android phone is easy but adding text or editing photos can be a process that requires both time and

dedication.

Textgram

is the right app for this purpose. It is designed to make adding text to photos quick and simple and as its name suggests and it enables you to share photos that contain text to Instagram. This app offers a large collection of background stickers and filters that only adds the visual attractiveness of the images process what's more you can select the aspect ratio so that it fits perfectly with your Facebook cover or any other social media you might want to share it on so

Textgram

is the balanced choice in our list.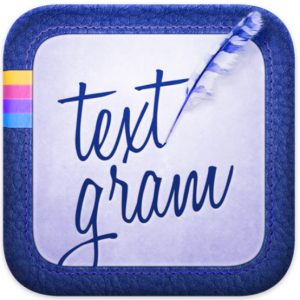 Font Studio:

Everybody chooses to install the font Studio to become an artist. Since the fonts and other features provided by the app enables them to create stylish images that take the viewer's breathe away. Working with this app on photos is simple because it only requires you to select one of the 120 built-in points and to type the text you want the app. It also enables you to add multiple layers of text, change its size, adjust the color

transparency and apply filters to make your photo as enriched as it can be.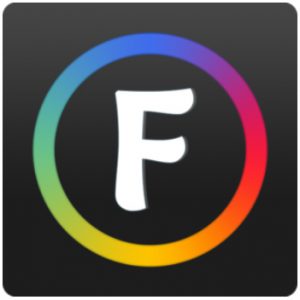 Salt:

At last we have salt with more than 500, 000 + installs the Salt app is among the most popular text to photo apps. This user-friendly interface based app is easy to navigate. Well, all you need to do in order to add text to photo is to double tap on the automatically display textbox. Business owners who want to add logos to their social media post will benefit from using the salt app. Performing the actions with this app is damn easy. Salt app users can crop and resize photos, add watermark to the photos to make them protected from copyright infringement. It is the most professional app in our list. From

Textgram

to Salt, this list has it all for every user and every purpose to be served in the search of adding text to photos apps on Android mobile operating system.

 
The post Best Apps for Adding Text to Photo appeared first on Techolac - Computer Technology News.
Do you want to play iOS games on PC and get the look and feel of an iOS device without actually owning one? If yes, then you are certainly at the right place. Thanks to the wonderful iOS emulators and simulators, you can play iOS games on your PC which otherwise are exclusive for iOS devices.
Now, you might be wondering what an emulator is? Read on to know about iOS emulators. We have compiled a list of some of the best iOS emulators for Windows PC that come free of cost and are capable of supporting every version of Windows operating systems (7/8/8.1/10).
What is an iOS Emulator?
An iOS Emulator is basically a software which can be installed on Windows operating system on your PC. It is used to run iOS apps on PC.  In a nutshell, it is a virtual machine that sustains the operation of apps that belong to some other operating system and make them function smoothly.
How is an Emulator Different from a Simulator?
An emulator works as a replacement for the original device. It can run the same software and applications of the original device without modifying them. Emulators are basically used by non-iOS users who want to experience the iPhone/ iPad interface without having the original device. It is mostly preferred by users and developers to test drive apps due to its user-friendly features and flexibility.
On the other hand, a simulator can set up the similar environment as the original device's OS but it does not replicate its hardware. Due to this reason, some applications might not work in simulators or may run a bit differently. A simulator often runs the code faster and smoother and it launches instantly within seconds.
5 Best iOS Emulators for Windows PC
1. iPadian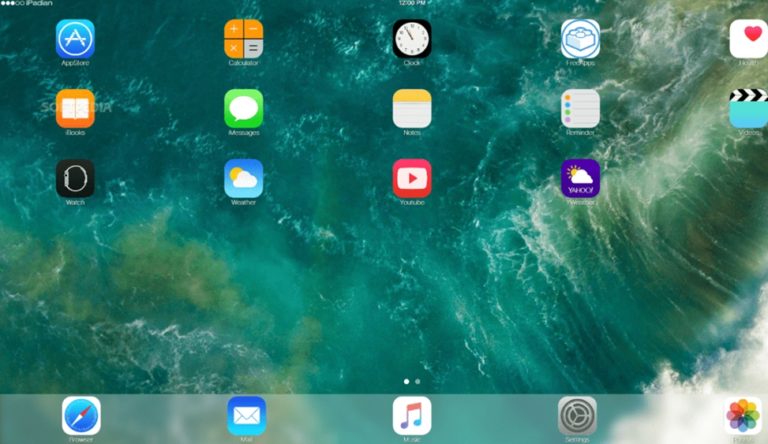 iPadian is an iOS simulator for Windows PC that has a similar GUI as of an iPad. When you use it,  the interface that you experience on your windows computer will be identical to when you use an iPad. However, you can't access the Apple App store, so you're restricted to iPadian's own custom app store.
iPadian is available in both free as well as paid version. Its free version is good enough to be implemented for any iOS games or apps. This iOS emulator is well-known for great processing speed, attractive GUI, good download rates, app compatibility and rich displays. Another plus is you get access to the buttons and the touchscreen instantly by simply clicking on the screen
2. Air iPhone Emulator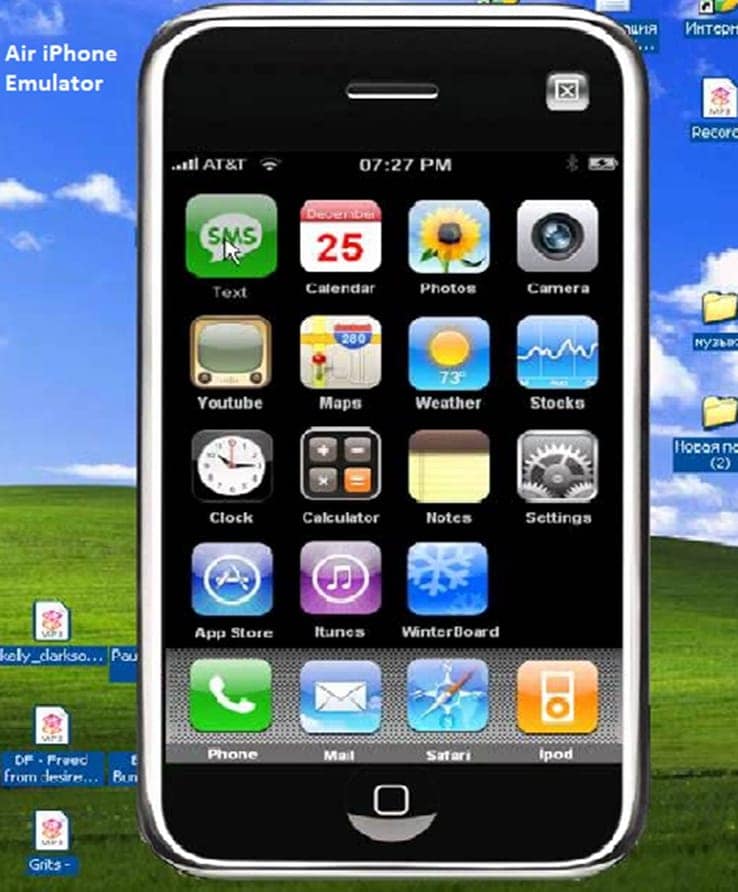 AIR iPhone is known for its simplicity and user-friendly interface. It is an Adobe AIR application that offers iPhone's GUI and facilitates you to run iOS apps directly on your PC. It imitates the graphical user interface of the iPhone. To run Air iPhone you will require the AIR framework for the application to the program. This iOS emulator for PC is free and it is best compatible with Windows 7, 8 and 8.1.
3. SmartFace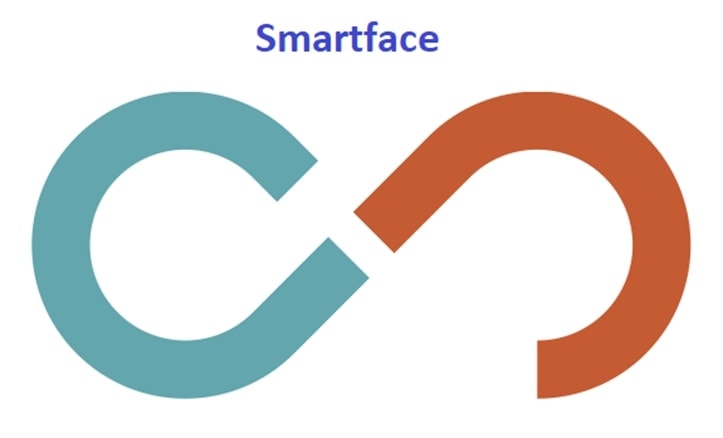 Smartface is an app developing software which lets you emulate iOS for free. The main purpose of Smartface is to test iOS applications in different iOS environments. It is a full-featured enterprise mobility management platform that reduces cost, increases productivity, eliminates dependence and delivers strategic mobility solutions. The iOS emulator provides full debugging options for iOS apps. This is the emulator to go for if you are looking to have an experience on your Window PC similar to that of an iPad or iPhone and their native apps.
4. MobiOne Studio

MobiStudio is among the best iOS Emulators for PC. With this emulator, we can run both iOS apps as well as Android apps on our PC. It is very useful for developers because MobiOne cross-platform apps are built on the popular HTML5 hybrid-native app model using the open-source Cordova or PhoneGap framework. Optionally, you can choose to create an optimized mobile web app or website. This iOS emulator enables you to learn how to play iOS games on window PC so you can run all iOS games and applications free on the windows system.
5. APP.IO EMULATOR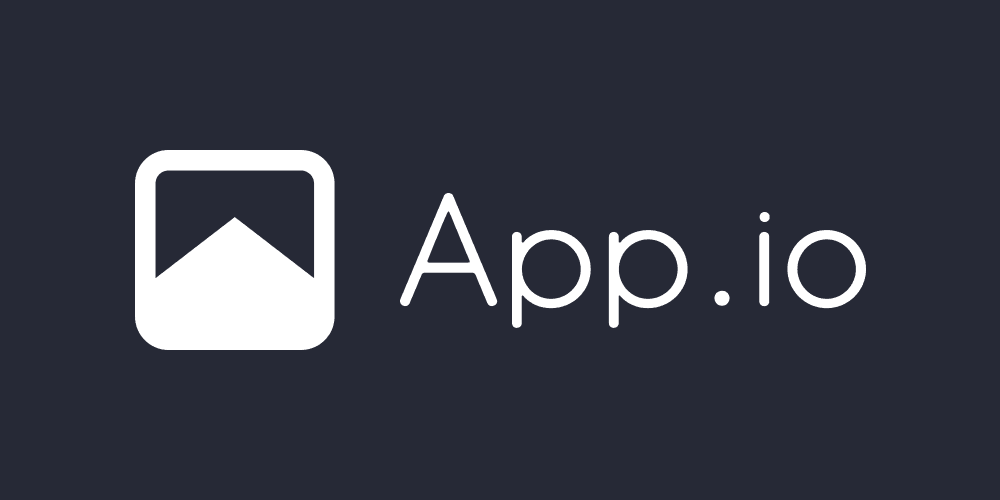 If are looking for an iOS emulator to use on your Windows PC without installing any application in your system for this purpose then you can use App.io iOS emulator for Windows. App.io is an online iOS emulator which can work more or less similar to offline emulators. All you need to do is upload the iOS.app bundle on App.io site and you will get the interface in some time, where you will be able to run the applications. An upside of using this website is, it works even with .apk files which means you can use this iOS emulator for PC for running Android applications too.
The post 5 Best Emulator to Run iOS Apps and Games On Windows 10 appeared first on Techolac - Computer Technology News.
When it comes to running an online business, a lot of people hardly give web hosting the attention it deserves, only treating it as an afterthought.
If this sounds like you, you're probably making one of your worst mistakes without even realizing it that could be inhibiting the optimal growth of your online business.
Technically, you don't need to use a web hosting provider to set up a public website. However, most people use web hosts because of the convenience they provide.
If you opt to use a web hosting service, your choice of web host or web hosting provider plays a big role in getting your website online and supporting your business's growth.
Impact of Web Hosts on Your Business Website
Here, ways in which your choice of web hosting service provider impacts the performance of your business.
1. Website Loading Speed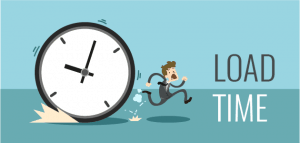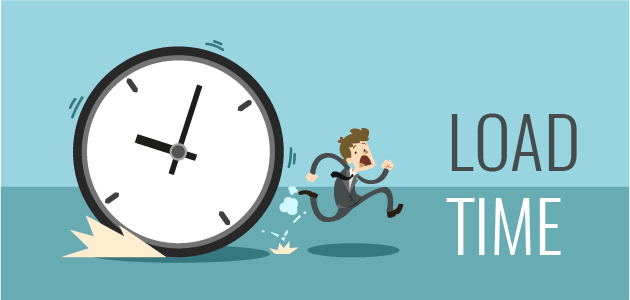 Numerous studies conducted on web pages loading speeds have shown that speed is directly linked to the performance of a website on aspects like visitor numbers, click-through rates, and ultimately conversions. To put this into perspective, it has been found out that a website loses up to 40 percent of would-be visitors if it fully loads in more than 3 seconds.
So, how can you speed up your site and retain more visitors to your site?
Well, a few things come into play here including factors like image optimization, the variety and types of fonts used, and the size of individual pages just to name a few.
More importantly, your choice of web host determines how fast or slow your site loads. For example, shared hosting comes with limited resources as they are shared among many competing websites, thereby making it difficult for sites hosted here to load fast.
A better option would be a virtual private server which guarantees more memory, disk space, and CPU allocations for improved performance for established businesses with large numbers of websites visitors. And if you need even higher speeds and performance, hosting your site on a fully dedicated server will surely do the job better.
2. Images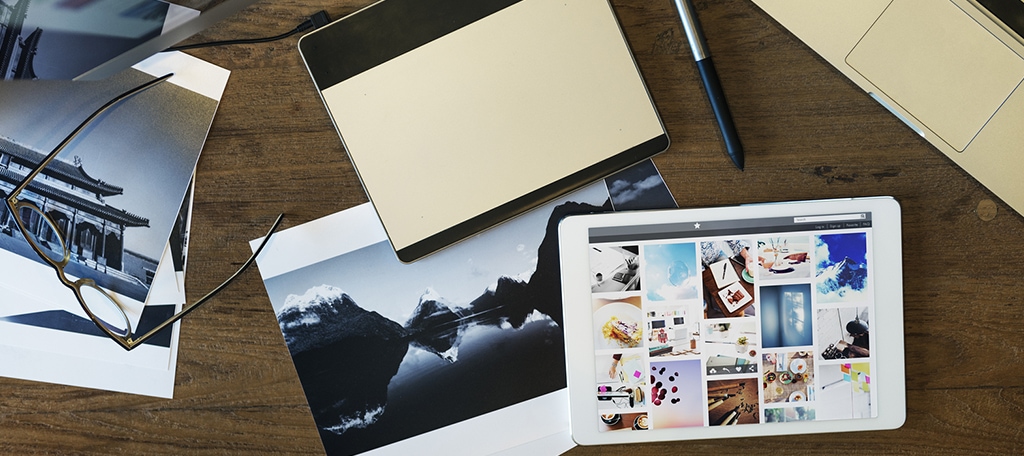 When asking the question, "How do I fix a slow website?" the first answer you're likely to get from just about everyone is image optimization. And for good reason. Images are often a primary chokepoint, but only because steps haven't been taken to eliminate them as one of the causes of a slow website.
The rule of thumb for images is: never serve an image that is larger than necessary. That's a simple rule that's difficult to follow, taking into consideration the many different screen sizes, or viewports, your website visitors are likely to use.
When we're talking about images, size isn't only pixel measurement dimensions, it's also file size, which is controlled by the image quality.
Here are some avenues to pursue:
Create multiple versions (sizes) of each image. They are used in conjunction with code to detect viewport size and serve appropriately sized images, so you aren't sending a 3000-pixel image to a handheld device, or a 200-pixel image to a Retina display.
Try different image formats, like Google's .webp or resizable .svg files for logos.
Lazy Loading, a method of preventing the loading of images (and certain other elements) that aren't currently visible in the browser. For example, in a lengthy article with images throughout, the images that appear later in the article – that aren't needed for that first browser window – will not be loaded on the initial page load. Implementing Lazy Loading on your website isn't the simplest of tasks, but if you run an image-heavy website, it may well be worth the learning curve. If your website uses WordPress, there are Lazy Loading plugins you can use (such as a3 Lazy Load).
3. Assets and Scripts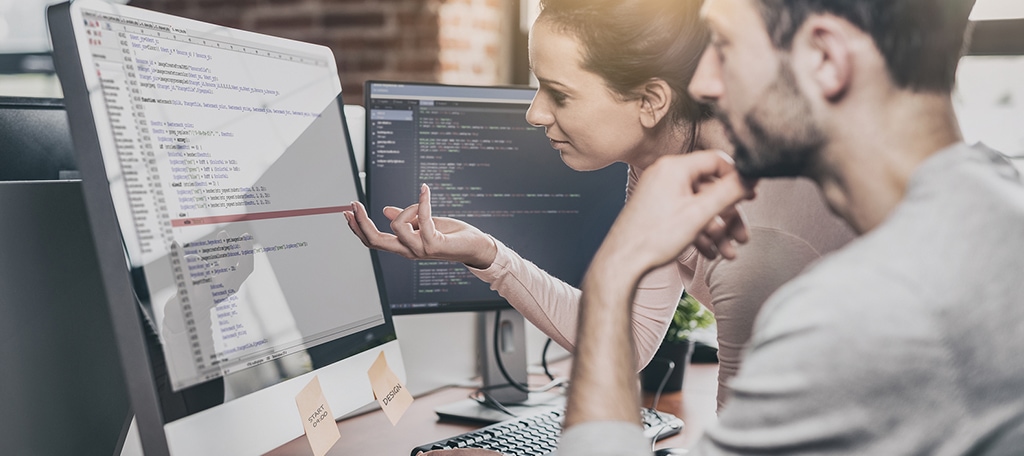 JavaScript and Cascading Style Sheets (CSS), once rare and exotic wonders of the web, are now basic tools used by the vast majority of websites. You would be hard-pressed to build even the most basic modern website without using both JavaScript and CSS. But reasons for slow website loading can often be traced back to the use of these files.
The problem is, JavaScript and CSS are "render blocking resources," which means that HTML parsing stops while JavaScript and CSS are loading. So when the parser reaches a tag, it stops to fetch the script and run it, then continues loading the HTML.
You can see where that could potentially lead to a performance problem (and why it's best to avoid in-line CSS wherever possible). Luckily, there are methods to combat common JavaScript and CSS slowdown issues.
When it comes to .js and .css files, the best practice is to only load what a page needs. It's tempting to make your life easier by using header and footer files that load every script and asset your site uses into every page, but when you do that, you're creating overhead for pages that don't use all of the assets and unnecessarily increasing load times.
When it is necessary to include scripts, consider moving the tags to the page footer, rather than the header. Sometimes when you use multiple JavaScript files, they have to be loaded in a particular order, but as long as that order is correct, it may be possible to move all of the tags to the page footer.
In those cases where a .js or .css file must be in the page head, you can benefit by running it with an async or defer option. When you load an asset asynchronously, the HTML document continues to load while the asset is loading, which is, of course, preferable to the default "render blocking" behavior.
To implement asynchronous or deferred loading:

The defer option will give you the most gain in speed, but it may not always be preferable, depending on what's happening on your page. Experiment with both options to see which works best for you.
4. Minify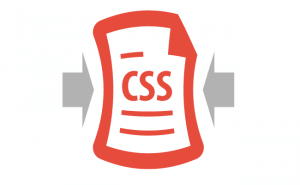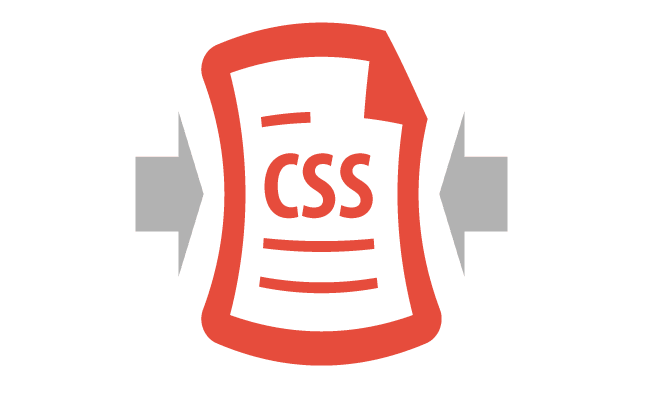 Speaking of JavaScript and CSS files, they are prime candidates for what's known as minification. When we humans work on JavaScript or CSS files, we organize the code in ways that make it easy for us to see what's happening in the file.
The web server, though, doesn't need all that spacing. Minification takes your human-readable file and strips out things like whitespaces and linebreaks – which the server doesn't need – and in the process decreases the file size, sometimes substantially.
The downside of minification is once you've minified a file, it's challenging for a human to edit it, seeing as all of those helpful line breaks and white spaces are gone. So minification is typically handled automatically as part of a larger workflow or site management system.
But if you're a DIY type, you can still use minification via sites like minifier.org. Just make sure to keep your working, human-readable copy of your JavaScript and CSS files around and minify them whenever you make a change. There are also tools to "un-minify" a file, but I find it best to maintain the original file and minify it whenever it changes.
5. Content Delivery Networks (CDN)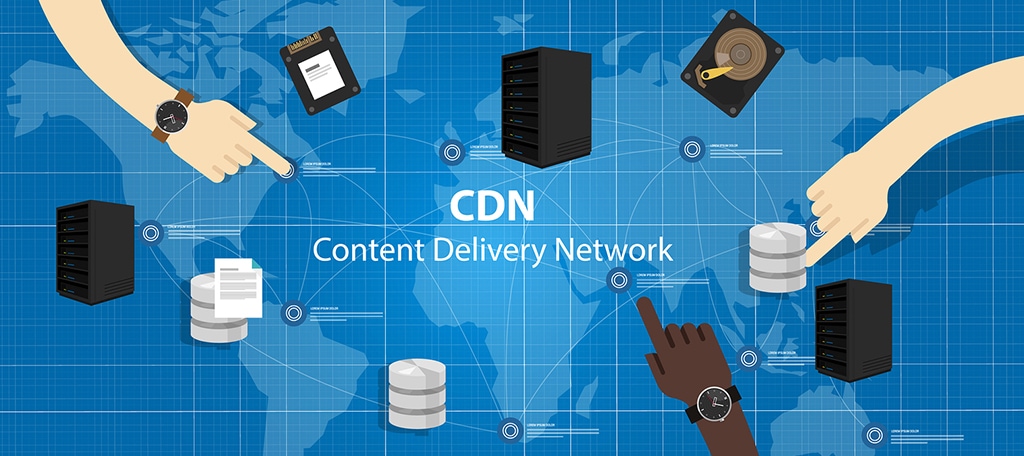 For the first decade or so that the web was around, most websites were located on a single server. Meaning if you were in California and a website visitor was on the other side of the world in Madagascar (okay, the antipodes map says almost Madagascar), the visitor would connect to your server and wait while the files made the 11,000-mile trek from your server to their desktop.
CDNs were developed to reduce that distance. A CDN is a global network of servers that deliver content to website visitors based on where that visitor is located. So in the most simple terms, you upload a file, the CDN copies that file to multiple servers, then when a visitor comes to your website, the CDN determines which server is closest to the visitor and delivers the file(s) from that server.
So rather than your friend in Madagascar viewing your site files from California, they might load them from a server in Europe, less than half the distance. And as CDNs grew and expanded, more servers became closer to larger sections of the population.
You can see how a CDN would save time with files like images (and some of them can even automatically resize the images on the fly!), but they can also help with the other kinds of asset files we talked about.
For instance, if you use the Bootstrap framework for your site, you can load minified versions of the CSS and JavaScript libraries from a CDN, rather than from your web server. Similar CDNs exist for popular JavaScript libraries like jQuery.
And of course, there are also some very popular general website CDNs (Cloudflare, etc.) that promise to increase site performance and security. The bottom line is sometimes your website is slow for reasons outside of your control, such as physical distance. In those cases, you can use a CDN to improve response times for a more significant portion of the world.
6. Browser Caching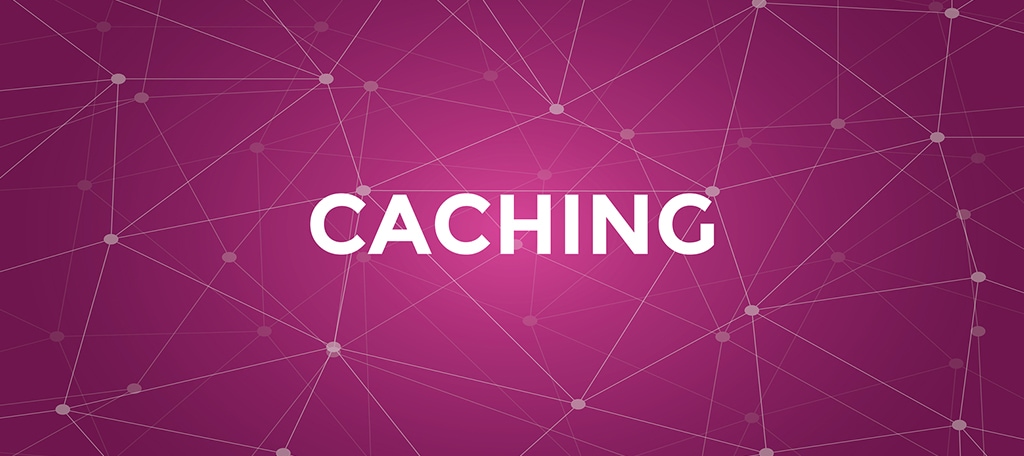 One surefire way to combat a slow website is through file caching. Caching is the temporary storage of website files in a visitor's browser (or on a visitor's computer). Local storage means the same file doesn't have to be requested from the server on each page load. So if your site uses a single CSS file, the visitor downloads it once, then the file is called from their local cache for every page load after that, making page rendering much faster.
Did I mention GreenGeeks PowerCacher works automatically on our Ecosite Pro or Ecosite Premium hosting accounts? I did? Well, it was worth mentioning again. But generally speaking, caching will benefit just about every kind of website, and especially those that use a lot of asset types we talked about earlier: JavaScript files, CSS files, common header or footer images, logos, etc.
The simplest way to implement caching is by using ExpiresByType in an .htaccess file. In the example below, we're telling the server/browser that we want the visitor to store jpg images in their local cache for a year, and CSS, JavaScript and HTML files for a month.
The assumption being once you upload an image to your website, it's unlikely you're going to change that image, whereas HTML and CSS files may be updated more frequently.
<IfModule mod_expires.c>
ExpiresActive On
ExpiresByType image/jpg "access 1 year"
ExpiresByType text/css "access 1 month"
ExpiresByType text/html "access 1 month"
ExpiresByType text/x-javascript "access 1 month"
ExpiresDefault "access 1 month"
</IfModule>
If this method seems a little basic, it is. There are more advanced caching methods you can use in .htaccess, but if you're just getting started with caching, ExpiresByType is an easy way to get started.
7. Web Hosting Uptime and availability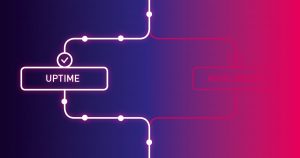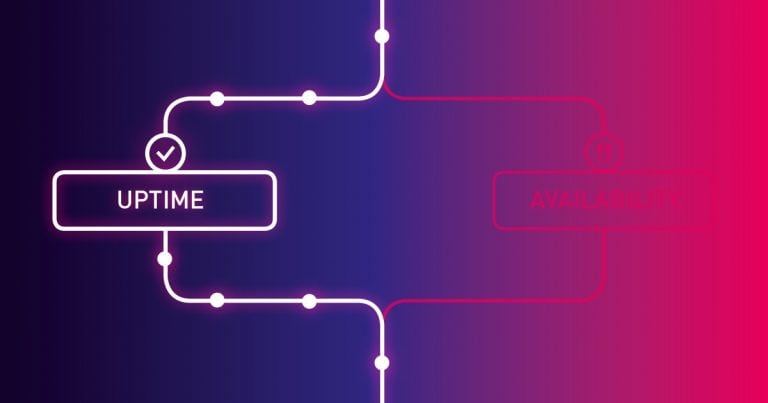 Let's face it, no one enjoys working with an unreliable service provider or product seller, and this applies to online businesses space too. One of the key measures of reliability when it comes to running an online business is the uptime (and downtime) rates.
For starters, your customers can't trust your business if your site is down many times when they visit it. In addition, Google and other search engines frown upon websites that suffer chronic downtimes, meaning these sites are less likely to rank them well in search engine results pages.
When choosing a hosting provider, it's very important that you go for a service that offers solid performance guarantees and also has in place proper mechanisms to deal with downtime issues.
For example, reliable hosts like the ones reviewed on Hosting Foundry offer over 99.9% uptime and commit to compensate for anything lower than this, usually based on monthly averages.
Additionally, the best web hosts use the more reliable SSD drives in place of HDD drives and also fit their servers with speed enhancers, such as Nginx and caching tools.
8. Web Hosting Customer Support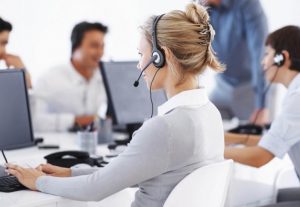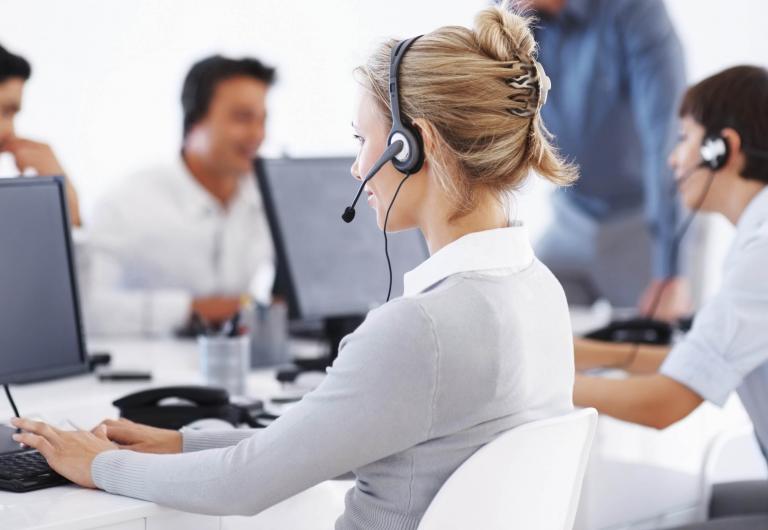 Like any other technology, your site is bound to encounter technical hitches – some brought about or emanating from issues with your host. If this happens, you need to have a provider you can trust to provide quick support and arrest the problem as fast as possible.
Nothing can be more frustrating than getting no or automated responses from your host when you need urgent help getting your site up after an unscheduled downtime. For this reason, it's important that you're sure about the responsiveness of a web host's support team before engaging them for hosting services.
Are they known to respond to emails and live chats within a few minutes or hours? How many channels do they offer for customer support? Are their reps knowledgeable and helpful in tackling major technical issues?
All these are key questions you should be asking yourself if you're to avoid disappointments due to bad experiences caused by poor support.
9. Web Hosting Security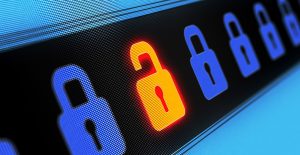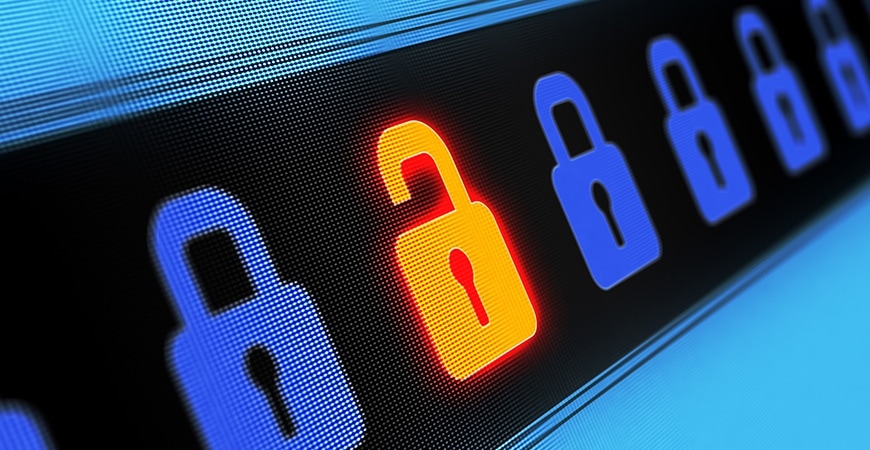 The overall security of your site is the sum effort of both what you do onsite and what your web host does on its end.
Sure, you could have total control over how you manage and secure your content management system, but have very little to do if the security problem emanates from the hosting provider's end.
Only work with web hosts with fully secured data centers and servers and which also include backups in their hosting packages.
Other security features to look out for are SSL certificates, two-factor authentication, and firewalls.
10. Web Hosting Server Location


Server location matters a lot in the overall loading speed of a website. You want to host your site on a server that's closest to your target market to reduce the time it takes to gather data and relay it to your visitors' devices.
Therefore, when choosing a web host, remember to check whether it has data centers spread out to your targeted users' locations. Even better, go for providers that support Content Delivery Networks (CDNs) or even offers one as part of their plans.
The post Slow Website and Web Hosting Affects Your Online Business appeared first on Techolac - Computer Technology News.